Video Assistant Referee causes controversy every week in the Premier League, but how are decisions made, and are they correct?
After each weekend we take a look at the major incidents, to examine and explain the process both in terms of VAR protocol and the Laws of the Game.
– How VAR decisions affected every Prem club in 2022-23
– VAR in the Premier League: Ultimate guide
This week in the VAR Review: Should Marcel Sabitzer have been sent off? Should Thilo Kehrer have conceded a handball penalty at Spurs? Was Arsenal's third goal at Aston Villa offside? Was Nick Pope's red card correct? Should Erling Haaland have won a spot kick?
The exit of Lee Mason
There's was plenty of "believe it when I see it" when Howard Webb arrived as PGMOL's new chief of refereeing in December and promised greater transparency, accountability and a drive to improve standards, but the last two weeks have shown the former World Cup final referee to be true to his word.
After a smooth first month in the job, there's no doubt the last couple of weeks have been rocky, but on the whole the general picture in the Premier League is not that different to the rest of the top leagues. Of course, that doesn't excuse what happened on Feb. 11, when a catalogue of errors led to public apologies to Arsenal and Brighton for incorrect offside decisions and, ultimately, the departure of Lee Mason as one of three full-time VARs.
While Mason's exit was inevitable after he committed six VAR errors in little more than half a season, that Webb has acted quickly to change the shape of his team rather than wait until the end of the season shows there will be no room for complacency.
Webb cannot keep reaching mutual agreements with underperforming officials, of course. There is a limited supply of referees of the standard to take charge of games at the top level, which is where his expanded team of coaches and mentors have to step up and close the gap between performances and expectation.
Everything hinges on the quality of decision-making on the pitch itself, which is why you don't see as much controversy in competitions such as the Champions League, which only uses the best referees from across Europe. If referees are making confident and ultimately correct decisions, there's less likelihood of VAR controversy.
Lee Mason's 6 VAR errors
Aug. 28: Wolves vs. Newcastle
Missed penalty kick for Matheus Nunes shirt pull on Sean Longstaff.
Sept. 3: Newcastle vs. Crystal Palace
Incorrectly ruled out a Tyrick Mitchell own goal for a foul in the build-up by Joe Willock on Vicente Guaita.
Sept. 4: Man United vs. Arsenal
Gabriel Martinelli goal wrongly disallowed for a foul in the buildup by Martin Odegaard on Christian Eriksen.
Nov. 5: Nottingham Forest vs. Brentford
Wrongly awarded penalty (scored by Bryan Mbeumo) for a foul by Dean Henderson on Yoane Wissa.
Jan. 21: Leicester City vs Brighton
Missed penalty kick for Luke Thomas foul on Danny Welbeck
Feb. 11: Arsenal vs. Brentford
Missed Christian Norgaard offside before Ivan Toney's equaliser.
---
Possible red card: Sabitzer for challenge on Faes
What happened: In the 41st minute, Manchester United midfielder Marcel Sabitzer challenged Wout Faes for the ball, but mistimed his tackle and caught the Leicester City defender on the knee. Referee Stuart Attwell had already awarded a free kick for Wout Weghorst's foul on Kiernan Dewsbury-Hall a second earlier.
VAR decision: No red card.
VAR review: Sabitzer was trying to knock the ball away ahead of Faes with the outside of his right boot, but he missed the ball and caught his opponent. Attwell didn't award the foul against Sabitzer because he had already penalised the earlier challenge, but that shouldn't have saved Sabitzer from disciplinary action. He was lucky to escape a red card, and it's incredible he wasn't even booked for the challenge.
As discussed in this column regularly, the VAR won't make a judgement on the point of contact alone, the nature of the challenge is just as important. The lack of force and intensity in a challenge will probably mean this won't go down as a missed VAR intervention when looked at by the independent assessment, but a red card was probably the better decision with the contact onto the knee with the studs.
With the Premier League's high threshold, as well as over-riding protocol that the monitor isn't there "to have another look," the VAR, Paul Tierney, has to be certain this is a red-card offence. Even if the referee hasn't seen it or even produced a yellow card, that doesn't change the process much for the video referee.
It can be argued that Sabitzer "endangers the safety of an opponent", but he certainly didn't exceed "the necessary use of force" — the two qualifying aspects off the law for serious foul play, though both don't need to be present for a red card. Similar challenges haven't resulted in a VAR red card, including Kalidou Koulibaly against Southampton on Saturday.
For all the challenges that fans have felt should be VAR red cards for tackles this season, the independent panel has judged that only one has been missed: the challenge by AFC Bournemouth's Jefferson Lerma on West Ham United forward Gianluca Scamacca in October.
VAR overturn: Rashford onside for second goal
What happened: Marcus Rashford broke through on goal from Fred's pass in the 56th minute, but the flag went up for offside after he put the ball into the back of the net.
VAR decision: Goal awarded.
VAR review: It's a classic example of how the positions of players on a 2D image can be misleading to the human eye. Because Rashford is ahead of the nearest defender, Timothy Castagne, and the other defender is in the middle of the field, making a judgement is very difficult without technology — which removes issues around the camera angle.
The tech is mapped individually to each Premier League pitch, taking into account variants such as the camber. Depending on the position and height of the calibrated camera, it may not look as though a line is straight, but all are produced automatically and how they are generated isn't controlled by the VAR.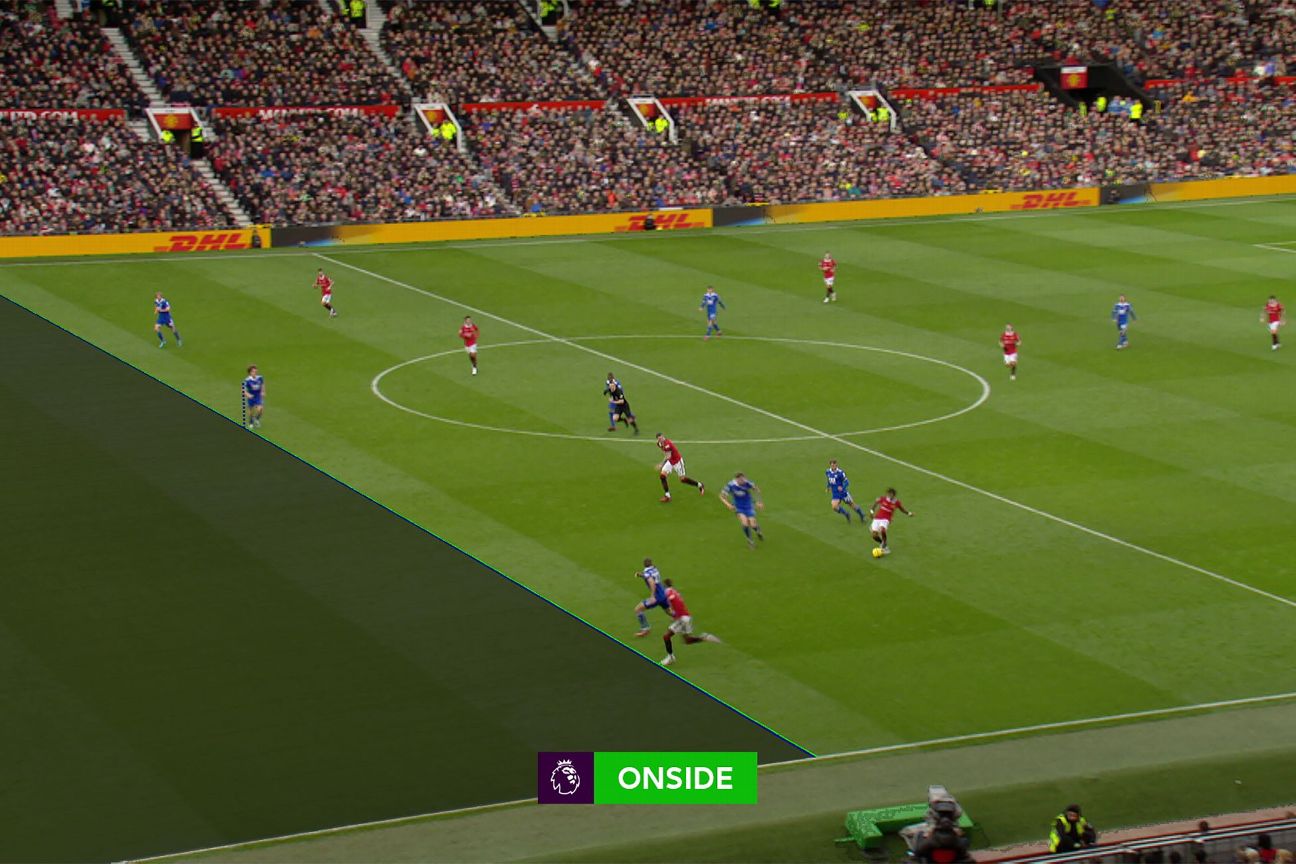 There's a small green dot from the pitch line to Rashford's toe as his front foot is just above the ground, and the line is draw to the outer arm of Faes as that the farthest forward point of his body.
Fans regularly argue that we'll see another like this that's given offside. And that's correct, because every offside decision is unique. No two players are ever in the same position. Some situations will be onside, and others will be offside.
In VAR terms, this wasn't even a close call. The "tolerance level," or "margin of error," didn't need to be used — as shown by the presence of both the blue defensive live and the green attacker's. If the "tolerance level" was required, just a green line to the defender would be displayed.
---
Possible penalty: Handball by Kehrer
What happened: In the 11th minute, Tottenham Hotspur were on the attack inside the West Ham United area. Richarlison tried to play a ball through to Harry Kane, but it hit the hand of Thilo Kehrer. Referee Michael Oliver turned down penalty claims (watch here.)
VAR decision: No penalty.
VAR review: This isn't about the arm to support the body, a clause that would only apply if Kehrer was going to ground. It's about proximity and a player's arm being in an expected position for their movement.
The latest amendment to the handball law made it clear that "a player is considered to have made their body unnaturally bigger when the position of their hand/arm is not a consequence of, or justifiable by, the player's body movement for that specific situation."
Kehrer was being challenged by Richarlison, and his arm was already out for balance before the Spurs striker tried to play the ball through. It was hit from very short distance, meaning Kehrer had no chance to react.
When the VAR, David Coote, asks Oliver to describe why he decided against a penalty, if the referee says he judged that Kehrer's arm position was a consequence of his movement, then it's difficult for there to be an intervention with the Premier League's high bar.
The independent panel ruled that it was an incorrect decision not to award a penalty to Chelsea last weekend, when West Ham's Tomas Soucek made a deliberate movement to stop Conor Gallagher's shot, but it is unlikely to reach the same conclusion over this incident. There was more subjectivity involved, while Oliver hasn't been the referee in a missed intervention once this season.
---
Possible offside: Nketiah and Odegaard on Martinez own goal
What happened: Arsenal went 3-2 up in the 93rd minute when Jorginho's shot came back off the bar and rebounded into the goal off the head of Emiliano Martinez. But was the Aston Villa goalkeeper impacted by two players in an offside position in front of him?
VAR decision: Goal stands.
VAR review: The question for the VAR, Stuart Attwell, is whether the presence of Edward Nketiah and Martin Odegaard prevented Martinez from "playing or being able to play the ball by clearly obstructing the opponent's line of vision."
There is no doubt both players are offside, and in front of the goalkeeper. So why was the goal allowed to stand?
A player being in a goalkeeper's line of vision isn't an automatic offence, there has to be an impact.
The VAR will ask:
– Could the goalkeeper see the ball?
– Was it an attacker(s) who was preventing him from seeing the ball?
– Did the presence of the attacker(s) affect how he went for the ball?
– Did the attacker(s) make any movement that might impact the goalkeeper?
Martinez appears to have a view through both attackers to the ball at the time of the shot, which is when line of vision is set, and two of his own teammates are blocking the line to the ball.
The distance the ball has travelled it crucial — the further away from goal it is reduces the chance of an impact upon a goalkeeper, as they have time to see the ball and react. It's rare for a goal to be ruled out over subjective offside when the shot has been taken from outside the area.
That the shot was high and to top corner meant it was unlikely that Martinez's view of the flight of the ball was impacted. If the shot had been low and had to go past one of the two attackers, that's more likely to be considered to be an impact. But Martinez made a full dive and his attempt to try to save the ball doesn't appear to have been affected, nor did he protest himself.
Odegaard is ducking but this is before the shot by Jorginho, and the ball itself doesn't go past him, it is closer to Nketiah — if Odegaard or Nketiah had made an action to the ball, this would have been an offside offence.
A VAR will seldom become involved in a subjective aspect of offside unless it clearly is an incorrect decision; this is the same in all leagues and competitions. This season only two goals have been ruled out for it through such a VAR call. It's a borderline case and there are valid arguments on both sides; if the assistant had raised his flag there's no chance the VAR would have ruled it onside.
You can't blame Villa fans for comparing it to John McGinn's disallowed goal at the Emirates in November 2020, with Ross Barkley in the way of the goalkeeper from the shot.
The key difference is the distance to goal, with McGinn taking his shot from around 10 yards from goal and Barkley between the shot and the goal, in front of the keeper. It's similar, but there are crucial differences.
As with all decisions such as this, it comes down to the interpretation of the officials and the VAR in that game; in another match, the judgement and the outcome could be different. This isn't down to consistency, it's about subjectivity.
Some Villa fans questioned a possible offside on the short corner which led to Arsenal's second goal, but you cannot be offside from the first play of a corner routine.
---
Red card: Pope for denying an obvious goal-scoring opportunity
What happened: Newcastle United goalkeeper Nick Pope came rushing out of his area to intercept a pass ahead of Liverpool striker Mohamed Salah. Pope tried to head the ball but failed to get enough contact, so grabbed it with his hand before Salah had the chance to take it off him. Referee Anthony Taylor judged this had denied Salah the chance to score, and produced the red card.
VAR decision: Red card stands.
VAR review: Handling the ball outside the area by a goalkeeper isn't an instant red-card offence. In fact, if it has no impact on a possible attacking move it won't even be a yellow card. But this red card was a very easy decision.
Some Newcastle fans have claimed that Pope wasn't "last man," but there isn't any qualification for this within the laws — it's simply about denying an obvious goal-scoring opportunity. Not to mention, of course, in an ordinary situation there would still be a goalkeeper in the net.
Pope realises he has made an error and deliberately pulls the ball back into his body. Salah would have been through on the goal without a keeper, and would have certainly have had the chance to score.
It's harsh on Pope, in the sense that red cards are not competition specific and bans are served immediately — meaning he will miss Sunday's Carabao Cup final against Manchester United.
The Football Association changed the suspension rule for accumulative yellow cards a few years ago. That means cautions picked up in cup games cannot affect availability for league matches, or vice versa. To change this only for yellow cards and not reds too didn't make sense at the time, and Pope has paid the ultimate price. In other countries, red-card bans apply to the competition they were received.
The situation is different to the possible handball red card for Chelsea's Thiago Silva at Crystal Palace, as there was the possibility of a covering defender and the goalkeeper in goal too.
---
Possible red card: Mara for challenge on Azpilicueta
What happened: In the 84th minute, Sekou Mara attempted an overhead kick from a corner routine, but kicked Cesar Azpilicueta in the head. Referee David Coote showed Mara a yellow card, with the Chelsea defender forced off with the injury.
VAR decision: No red card.
VAR review: Mara was very lucky to only receive a yellow card, because if David Coote had shown a red it wouldn't have been overturned.
Of course, overhead kicks are a valid play of the ball — but if this move is attempted a player should be aware of others around them.
The law states: "A scissors or bicycle kick is permissible provided that it is not dangerous to an opponent."
If the action results in an opponent getting injured, the referee would be within his rights to show a red card.
Referee Coote decided that Mara's actions were reckless, which is a yellow card offence. That can still be an acceptable disciplinary judgement, which is why the VAR, Robert Jones, didn't get involved.
---
Possible penalty and red card: Worrall foul on Haaland
What happened: In the 65th minute, Nottingham Forest defender Joe Worrall failed to control a long punt up-field, which allowed Erling Haaland through towards goal. The striker went to ground on the edge of the area and appealed for a penalty. Referee Graham Scott waved away the claims (watch here.)
VAR decision: No penalty or red card.
VAR review: If there was any contact, it was a light brush on Haaland's shoulder by Worrall with is hand. Any contact would have been outside the area, and that means the only question for the VAR is a possible red card.
We've seen similar situations with a small amount of contact leading to free kicks or penalties — but these have all been awarded by the referee and not by the VAR.
---
Possible penalty: Foul by Robinson on Veltman
What happened: In the 52th minute minute, Joel Veltman went down inside the area after a challenge by Antonee Robinson. He wanted a penalty but referee Darren England wasn't interested (watch here.)
VAR decision: No penalty.
VAR review: Veltman is very lucky to escape a yellow card for simulation, as there appeared to be little if any contact when Veltman went to ground attempting to go past Robinson.
Correct decision by the referee, and certainly no chance of a VAR penalty.
Information provided by the Premier League and PGMOL was used in this story.
Situs Prediksi Togel Online Terpercaya bisa anda akses langsung di Togelcc Prediksi, TOTOCC adalah situs bandar togel dengan pasaran togel terbanyak. Anda bisa bermain langsung dan melihat hasil langsung dari togel hari ini hanya di TOTOCC.COM.