Almost all the great clubs are worse: That's been a running theme in European soccer for the 2022-23 season.
Chelsea have gotten worse with every transfer purchase it made. Liverpool chased shiny scoring objects, forgot about its stale midfield and paid the price. Bayern Munich lost forward Robert Lewandowski, replaced him with a 17-year old and yet another winger, and panic-fired an expensive manager during the season's stretch run.
Paris Saint-Germain signed young, new players with one vision (Vitinha and Nuno Mendes), paired them with an expensive attacking front that has a different vision and hired a manager (Christophe Galtier) who has yet another different vision. Tottenham Hotspur hired someone (Cristian Stellini) who is the opposite of the ex-manager (Antonio Conte) for basically the fourth straight time, and it's catching up to them (while they potentially prepare to do it for a fifth time).
This flirtation with parity has had intriguing effects. Arsenal has led the Premier League for much of the season. Napoli are on their way to a first Scudetto in 33 years. Bayern cannot shake Borussia Dortmund in the Bundesliga race no matter how many times BVB flubs chances to take charge at the top. AC Milan and Inter Milan are both in the Champions League semifinals despite each battling poor runs of form in Serie A this year.
For a while, Manchester City were kind enough to join this group with their own version of confusing listlessness. City boasted the most celebrated manager in the game in Pep Guardiola and what was, on paper, the best team in Europe last season. Then they added master goal scorer Erling Haaland and soon-to-be World Cup hero Julian Alvarez (not to mention beloved Leeds defensive midfielder Kalvin Phillips and Borussia Dortmund defender Manuel Akanji) to the squad. It seemed almost unfair, and Haaland has indeed been a high-volume scorer from his very first Premier League start.
– Stream on ESPN+: LaLiga, Bundesliga & more (U.S.)
– Read on ESPN+: Why Bellingham is worth the hype
Still, the whole kept falling short of the sum of the parts, to the extent that some pundits thought Haaland was hurting City's typical flow. (Imagine that!) After averaging 2.44 points per game last season in the Premier League, City averaged only 2.29 before the World Cup break and were soon five points behind a torrid Arsenal. Then they averaged only 1.86 in their first seven league matches after the break.
Every breakthrough was paired with a setback. They beat Chelsea, but lost to Manchester United. They beat Liverpool in a huge EFL Cup match, but bowed out of the competition to lowly Southampton. They beat Spurs, and then lost to Spurs two weeks later. They beat Arsenal 3-1 in a huge league affair, only to draw with lowly Nottingham Forest three days later. And they began the Champions League knockout stages — where they have been the betting favorites all season — with a frustrating 1-1 draw at RB Leipzig as well.
Haaland was scoring less consistently too, with a three-match goalless stretch in January and a one-in-six stretch in February. The Was City better without Haaland? takes and questions began to percolate. Only a wobbly stretch from Arsenal (three February matches, one point) was keeping Man City from a big hole in the league race; and heading into the second leg of the Champions League round of 16, City was suddenly the vice-favorite to Bayern, per FiveThirtyEight's SPI ratings.
Things weren't completely falling apart, by any means, but the edge that we assumed City would have by this point in the season just wasn't appearing.
Then, it appeared.
After the draw with RB Leipzig, City won 10 matches in a row by a combined 37-4, before drawing with Bayern Munich on Wednesday and comfortably advancing to the Champions League semifinals. It's true that this run of brilliance includes resounding FA Cup wins over Burnley and Bristol City, but it also includes a 4-1 win over Liverpool, a 3-0 home pounding of a Bayern team that looked good until the 70th minute and a stunning 7-0 blowout of RB Leipzig. That's four matches against three of the 16 best teams in the world, per SPI, and a three wins with a 15-2 scoring margin.
Per SPI, Man City's odds of winning the Champions League have gone from 20% in late-February to 48% — a City-versus-the-field situation — heading into the semifinals. Thanks to another pair of wobbly draws from Arsenal, City's Premier League title odds have gone from 40% on March 1 to 65%. Man City are a resounding favorite to win the FA Cup, as well. (They host second-division Sheffield United in the semifinals on Saturday at 11:45 a.m. ET on ESPN+.)
In two months, City has gone from weighing a potential trophyless season — while also bracing for a fight over potential future financial fair play sanctions — to homing in on a possible treble. The future might still be murky, but the present sure isn't.
So much for "everybody's worse," then; Manchester City certainly isn't, and Haaland certainly isn't an issue either.
Erling Haaland: unlocked
Saying that Erling Haaland has been "unlocked" suggests he was previously, well, locked, which doesn't make much sense if you watched him play. Even with a couple of rickety winter runs, Haaland entered this torrid stretch still having scored 32 goals in 32 games in all competitions — and adding four assists from 26 chances just to show off.
City's overall scoring numbers hadn't improved as much as one might have anticipated given his prolific nature, and both teammates and Guardiola were still learning how to adapt stylistically to what he brings. But he was doing what City brought him to Manchester to do.
If you had any hot Better without Haaland? takes — you can admit it, it's a safe space, and I was tinkering with one of my own — I hope you deployed them in January or February. Because City's current surge has directly coincided with Haaland finding another, even more terrifying gear.
Here are some Haaland stats for you:
Goals per 90 minutes: from 1.2 before the streak to 2.2 during it

Shots per 90: from 3.8 to 5.1

xG per shot: from 0.23 to 0.28

Percentage of shots in the defending box: from 89% to 92%

Percentage of shots from favored left foot: from 61% to 68%
Somehow, Haaland has begun to see even better and more frequent scoring opportunities from the most dangerous areas of the pitch, and he is converting them. He is certainly overachieving the underlying xG figures, perhaps unsustainably so: Over the past three seasons in all competitions for club and country, his goal total has been about 25% higher than his xG total, but he is at +49% in this run. That will come down, but only so much because, holy moly, look at where he is shooting from!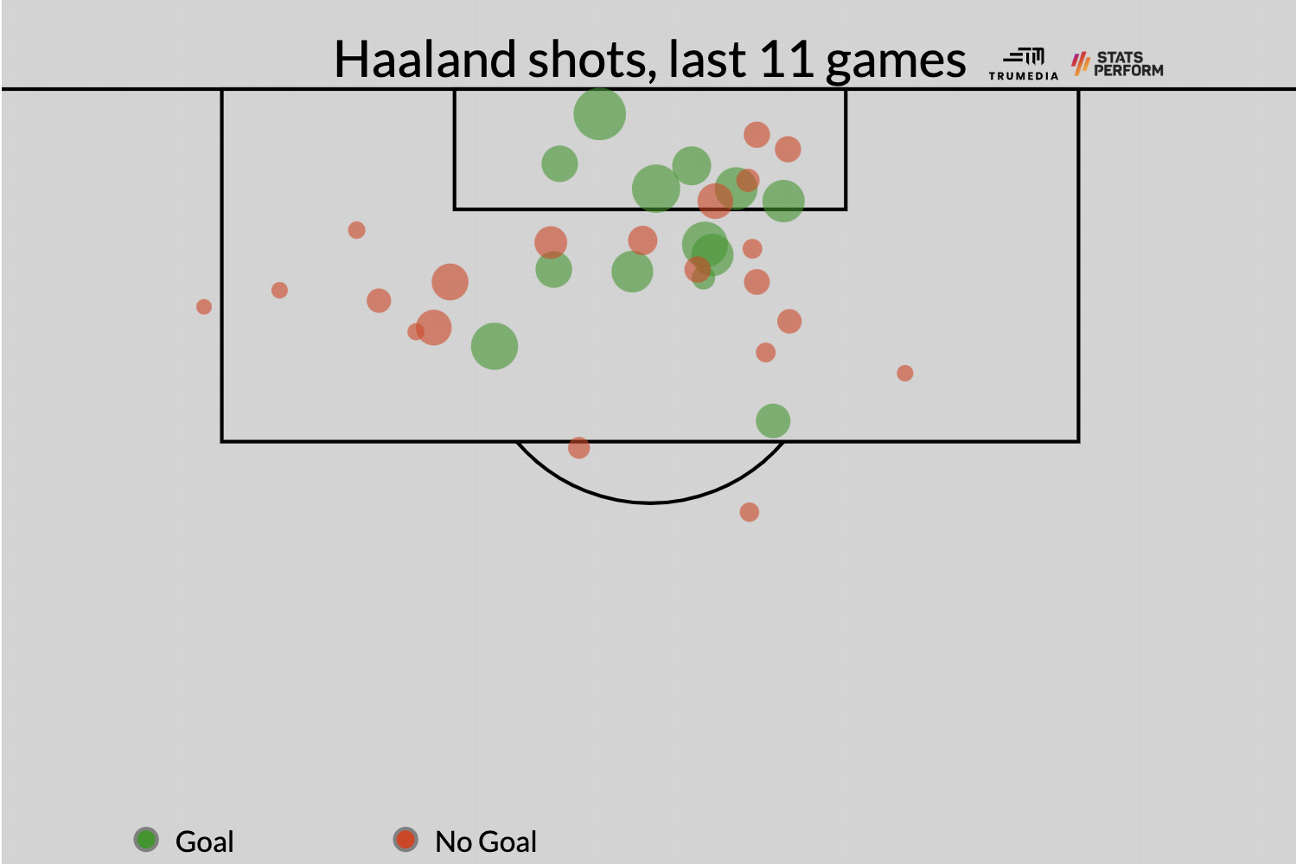 Green = goals. Size of dots correlates to amount xG generated.
That's quite a bit of point-blank work right there. And there's potentially even better news for Guardiola: This improvement in shot quality has coincided with an increase in overall Haaland involvement in City's possession game. Some more statistical shifts from the 22-year-old:
Touches per 90 minutes: from 25.5 before the streak to 27.6 during it

Touches per 90 in the attacking third: from 13.8 to 17.2

Pass attempts per 90: from 14.7 to 15.1

Carries per 90: from 13.4 to 16.2

Progressive carries per 90: from 1.9 to 2.4
These aren't necessarily massive shifts, and Haaland is never going to be Sergio Aguero in possession: Aguero averaged 45 touches and 27 pass attempts per 90 minutes under Guardiola. But Haaland also scores far more goals than the ever-prolific Aguero (or anyone else in the damn game at the moment), and it appears that getting him even slightly more involved in the cycling of the ball has created some impressive effects for both Haaland and City.
Somehow, there have been enough minutes and touches for Alvarez to carve out an interesting role too. Despite competing with Haaland for minutes, 23-year-old Alvarez — who was signed from River Plate in 2022 — has contributed five goals and two assists from 10 chances in 513 minutes during this City streak. And the creative duo of Kevin De Bruyne and Jack Grealish has combined for five goals and 10 assists (four to Haaland, three to Alvarez).
Alvarez's quickness is jarring — a good example is his work in an eventual Ilkay Gundogan goal against Liverpool — and he has paired beautifully with Haaland's impressive size (6-foot-4, 192 pounds) and physicality, either as a complementary weapon, as a change of pace off the bench or as a go-to guy if Haaland is out.
That's perhaps been the scariest and most impressive part about Man City's current streak, by the way. Haaland missed time with a groin injury and Phil Foden, who was growing increasingly hot himself, missed several weeks after an appendectomy. Only three players have logged over 800 minutes during this 11-match stretch, and only Grealish, Akanji and goalkeeper Ederson have played in all 11 matches. Eleven players have recorded between 400 and 800 minutes, with another eight are between 100 and 400.
The lineup is changing even more frequently than Guardiola typically changes his lineup, and City have still managed to establish a particularly high level.
Even by Man City's standards, their current run is impressive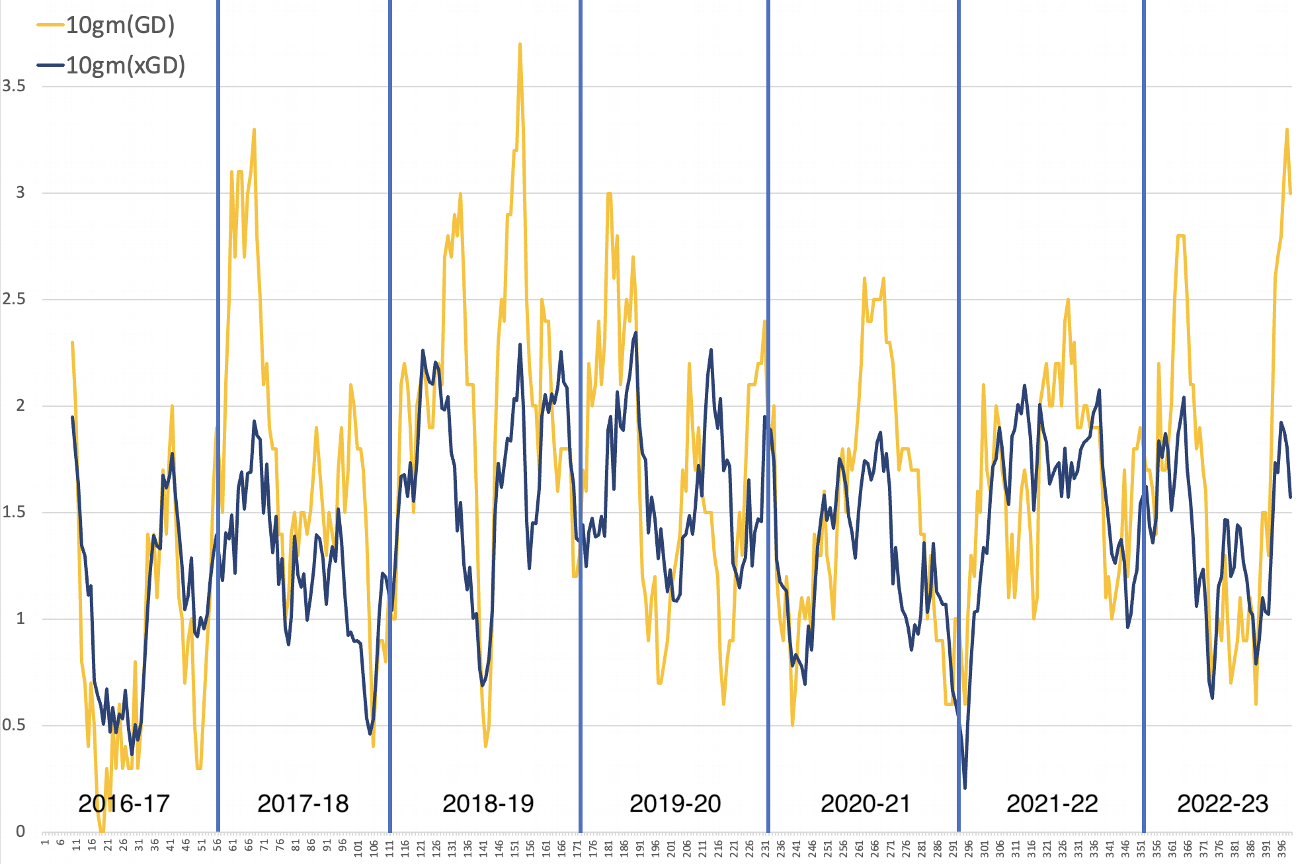 Manchester City's 10-game averages for goal differential (yellow) and xG differential (blue) since Guardiola took over in 2016.
Purely based on the scoreboard, this is the best run for Guardiola's squad since the winter months of the 2018-19 season, when they ripped off an 11-match run with 10 wins and a 44-4 scoring margin. That included cup wins over Burton Albion and Rotherham United by a combined 16-0 and a 5-0 romp over Burnley, but it also included a 6-0 against Chelsea. Their league form continued through the end of the season — it had to, with Liverpool in hot pursuit — and their only flinch, as has become customary, came in Champions League play, where they were upset by Spurs in the quarterfinals.
As with a similar run early in the 2017-18 season, however, the xG averages haven't been as impressive as the actual totals or even as impressive as some of the numbers they were posting early this season. (Expected goals, or xG, measures how likely a team is to score; it is a good indicator of how good a team is offensively.) During this 11-game run, Man City scored 38 goals from shots worth just 27.0 xG, and they've allowed five goals from shots worth 9.8.
Man City's defense has been particularly iffy of late: Two of those goals allowed (and 4.4 of the xG) have come in their past 110 minutes of action — the last 20 minutes of a 3-1 win over Leicester and the 90 in Munich. Granted, Your attention span wanes when you've got yet another three-goal lead is certainly a problem every club wishes it has. But they certainly aren't as sharp defensively as they were a couple of weeks ago.
Their attacking numbers might be running a bit too hot to sustain at the moment, but after signing one of the game's great finishers last summer, they might never again be completely beholden to the laws of xG.
So that's it then? Man City will win the treble?
Obviously, it's never quite that simple. City has played like the best team in Europe for large stretches of time under Guardiola but has yet to win the Premier League, Champions League and FA Cup in the same season, à la 1999 Manchester United. Most of that has been due to a failure to win the Champions League: Man City always managed to fall short, usually via upset, be it to Monaco in the round of 16 in 2016-17 to Liverpool, Spurs and Lyon in consecutive quarterfinals to Chelsea in the 2021 final or to Real Madrid in last year's semifinals.
It might bear mentioning, however, that the closest they came to pulling off a treble was in 2018-19, the last time they had a run of scoreboard dominance this strong. They won the league despite an amazing challenge from Liverpool; they swept both domestic tournaments; and they were eliminated from the Champions League only because of an away goals rule that no longer exists.
Guardiola's "Cityzens" are almost certainly burning a little too hot right now; their defense probably should have allowed more goals than it did recently, and the past 110 minutes have indeed seen opponents attempting too many shots of decent quality. Plus, even someone with Haaland's pedigree for finishing probably isn't going to continue overachieving xG figures by ~50%.
Still, it's impossible not to notice that Haaland has been more involved in possession and that Alvarez has played so well when given opportunities. Foden was back on the bench for Wednesday's Bayern match too. Phillips hasn't really clicked yet, but the other three major newcomers are officially looking like parts of a whole now. And that whole is awfully scary.
Situs Prediksi Togel Online Terpercaya bisa anda akses langsung di Togelcc Prediksi, TOTOCC adalah situs bandar togel dengan pasaran togel terbanyak. Anda bisa bermain langsung dan melihat hasil langsung dari togel hari ini hanya di TOTOCC.COM.