WREXHAM, Wales — It was like asking the tide to stop rolling in.
"Please stay off the pitch!" the Wrexham stadium announcer pleaded, as hundreds became thousands and the Racecourse Ground playing surface was swamped in seconds by supporters waving scarves and lighting flares. They had waited 15 years for this; of course they were going on the pitch.
– Report: Wrexham win National League, clinch promotion to League Two
Next door at William Aston Hall, which shares a car park with Wrexham's stadium, the sold-out signs were up for "The Magic of Motown," an event billed as the celebration of the sound of a generation with one very special night. However the real celebration was on the football pitch as Wrexham AFC, owned by Hollywood stars Ryan Reynolds and Rob McElhenney, beat Boreham Wood 3-1 to clinch promotion from the National League to the English Football League (EFL). And it was signed, sealed and delivered by two stunning goals from striker Paul Mullin.
"I would like to say that Paul Mullin is one the greatest footballers in the world," McElhenney said after the game, perhaps somewhat carried away by the occasion.
Mullin's two goals took his tally for the season to 47 in all competitions — just one fewer than Manchester City's Erling Haaland, but Wrexham have been playing in English football's fifth tier rather than the Premier League and Champions League. Still, as the highest-paid player in the National League and earning a reported £5,000 a week (Haaland earns £500,000 a week at City), Mullin has done what he was signed to do — secure promotion to the EFL.
"I'm not sure I can process what happened tonight," said "Deadpool" star Reynolds. "I am still a little speechless. People ask 'Why Wrexham?' This is why Wrexham: this happening, right now, is why."
– Stream on ESPN+: LaLiga, Bundesliga, more (U.S.)
Wrexham's story is an incredible one, especially given that they have been sprinkled with celebrity stardust since Reynolds and McElhenney bought the clubs from a supporters' trust in 2021. Prior to that, the club had tried and failed to reclaim their place in the EFL, which they lost back in 2008. Poignantly, perhaps, promotion was achieved 15 years to the day since a 2-0 EFL League Two defeat to Hereford consigned them to relegation.
Much has changed since the 2007-08 season. Manchester United ended that campaign as Champions League winners, while Manchester City were facing financial meltdown because of their owner at the time, former Thai prime minister Thaksin Shinawatra, having £800 million of his assets frozen. Three months later, City became the richest club in the world following Sheikh Mansour bin Zayed Al Nahyan's takeover and they have never looked back.
Wrexham, meanwhile, began their 15-year exile from the EFL with a game against Stevenage. But that exile is now over following Saturday's nerve-shredding win.
When Boreham Wood took the lead after 44 seconds with a goal from Lee Ndlovu, the Racecourse Ground fell silent. Were Phil Parkinson's team going to blow it?
Wrexham are all Hollywood now, though, and every script needs a hero to overcome adversity. Mullin was the superhero in red — the watching "Ant-Man" star, Paul Rudd, would have been impressed — by scoring his two second-half goals to win the game following Elliot Lee's first-half equaliser. Once Mullin's second went in, on 71 minutes, the home fans could enjoy the remainder of the game and soak up the feeling of finally getting back to the EFL.
"I think we can hear what it means to the town," McElhenney said. "It's a time of celebration, and to be welcomed into their community and be welcomed to this, it is the honour of my life."
How far can Wrexham go after being promoted?
Mark Ogden breaks down Wrexham's win and analyzes how far Wrexham can rise in English football.
---
On the day of Wrexham's dramatic 3-2 home win against Notts County — a win secured by goalkeeper Ben Foster's penalty save six minutes into stoppage time — the front page of the local newspaper, the Wrexham Leader, offered a sobering flip side to the excitement and positivity generated by the football team.
"PEOPLE PULLING OWN TEETH DUE TO NO DENTISTS" was the grim headline, accompanied by a story that detailed how a lack of investment in health care in the area had led to some locals extracting their own teeth because of an inability to register with a dentist. According to the story, only four of 57 dentists contracted to the National Health Service (NHS) in the area were prepared to take on new patients.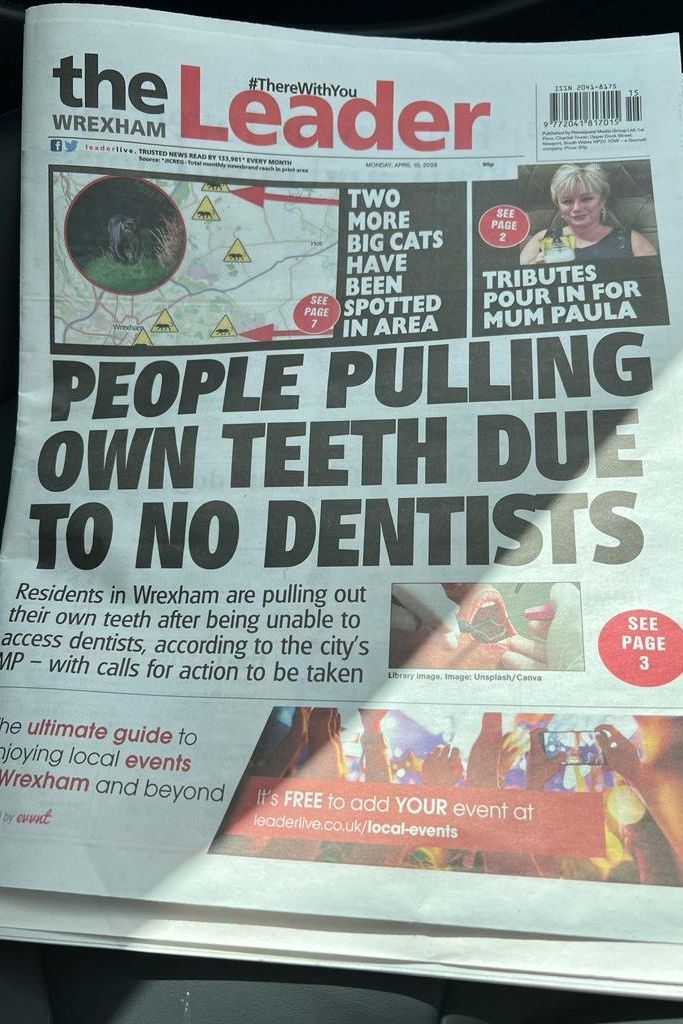 When McElhenney bought Wrexham with Reynolds in 2021, the actor had considered a number of different clubs throughout Europe in which to invest, but he chose Wrexham because of what he saw as similarities between the city and his hometown of Philadelphia.
"I grew up in South Philadelphia," McElhenney said in the opening episode of "Welcome to Wrexham." "The Philadelphia that I know and the Philadelphia as it identifies itself are people who work really hard for everything that they have.
"One of the things that was really attractive about Wrexham is, even though I've never been there, the town reminds me of Philadelphia. It's a working-class town. It's a blue-collar town that has had its ups and downs, and they haven't had all the opportunities that a lot of other people have had. I feel like I know these people. I grew up with those people. I am one of those people."
Wrexham is still enduring those tough times as an old mining town — 38 pits in the North Wales coalfield once employed 18,000 people, with the last one, in the Wrexham County Borough village of Rhostyllen, closing in 1986 — and striving for a better future. In 2020, a government survey found that 22% of under-16s in Wrexham were living in poverty, and the city is only just emerging from a drug crisis that saw it and surrounding areas dubbed the "spice capital of North Wales" because of the so-called "zombie drug."
In January this year, Wrexham was overlooked by the UK government's Levelling Up Fund — a 2019 Conservative Party election pledge to help regenerate deprived areas — and missed out on a share of a £2.1 billion UK-wide fund set aside for regeneration projects, a snub described as "absolutely disgraceful" by local politician Ryan O'Gorman.
Wrexham's struggles underline just why the football club's resurgence means so much, prompting a local band, The Declan Swans, to write "Always Sunny in Wrexham" as a tribute to the Hollywood owners. The song references the city's drug problems as a "zombie apocalypse," but the chorus highlights the debt of gratitude to McElhenney and Reynolds with the lines:
A famous old stadium crumbling down / No-one's invested so much as a penny
Bring on the Deadpool and Rob McElhеnney
"Ryan and Rob have put a smile back on the face of Wrexham," Michael Hett, an ex-miner and lead singer of The Declan Swans, told ESPN. "Football fans are always sceptical of people who want to buy their club and we have had our share of bad owners — one of them made it clear he wanted to knock the Racecourse Ground down and build a retail park — but with Ryan and Rob, we have hit the jackpot really.
"Our song is a bit tongue-in-cheek, but Wrexham had become known as 'Spice Town' and the club was going nowhere until Ryan and Rob arrived. But for the 2019-20 season being cancelled due to the COVID-19 pandemic, we would probably have been relegated out of the National League and that would have been the end of the club, so you can't overstate the transformation since the new owners came in."
It isn't just the football club that have enjoyed the uplift that comes with being sprinkled by the McElhenney and Reynolds stardust.
Wrexham Lager was Britain's first licenced lager and carried the name of what was then a small industrial town across the world in the 19th century. It also had the unenviable distinction of being the only lager available on the Titanic during its fateful maiden voyage in 1912. But thanks to its ongoing connection to the football club, Wrexham Lager is enjoying a renaissance of its days from the 19th century.
"The documentary has put us hugely on the map," Joss Roberts, Wrexham Lager sales manager said. "It's hard to quantify, but our overseas orders of merchandise have gone crazy and we're selling beer more than we ever have.
"The supplies to the stadium for home games are three times what they used to be, but this week has been something else. The effect of Rob and Ryan on the town has been amazing in the way it's made people feel about the place."
There have been other positive stories Wrexham-based companies riding the wave of the club's new global popularity. FI Real Estate invested £50 million in land in the city in January, with managing director Tim Knowles saying, "There's never been a more exciting time to be in Wrexham than 2023." Reynolds himself has also bought property in the area, recently acquiring a £1.5 million home in the village of Marford, a 10-minute drive from town.
The Declan Swans can identify with the booming Wrexham story. Prior to the club being taken over by celebrities, the group played local venues and were largely unknown outside North Wales. But that has all changed. "The first time the owners came over, Ryan shared one of our videos on TikTok," Hett said. "It had had just over 1,000 views before he posted it, but it's now been seen by over 18 million people. Unbelievable, really.
"'Always Sunny in Wrexham' is played before and after the home games now and Ryan has even got us down as a support act for the Kings of Leon when they play at the Racecourse Ground for two nights next month. I think the biggest crowd we have ever played to is about 700 people, so that will be a bit different for us!"
---
It has taken 15 years for Wrexham to reclaim their place in the EFL, but there is little doubt that the club have ambitions to quickly climb the divisions toward the Premier League. Reaching the summit of English football's pyramid structure is a dream held by many, but getting there is a different matter, and Wrexham will face new challenges as they attempt to extend their Hollywood fairy tale.
In EFL League One and League Two, clubs must adhere to the salary cost management protocol (SCMP), which limits spending on wages to a proportion of turnover. Wrexham's annual wage bill in the National League this season has been reported as being £3.6 million ($4.8m) — roughly £69,500 or $86,500 per week — and they may have to reduce that to comply with the League Two cap, which permits 55% of turnover on wages.
Wrexham's overall revenue is also difficult to fully assess. In their first full season as owners, 2021-22, McElhenney and Reynolds grew the club's turnover by 404% to just under £6 million ($7.5m). That figure is likely to grow this season, but it is not known whether the earnings from the "Welcome to Wrexham" series will be assigned to Wrexham's accounts or separately to McElhenney and Reynolds. That will only become clear when the club's next financial results are published later this year.
Preseason friendlies against Chelsea and Manchester United in the United States will help boost the club's visibility and finances, but as Salford City have discovered since being promoted to the EFL in 2019, being a wealthy club in League Two is no guarantee of promotion to League One.
Salford, jointly owned by former Manchester United star players Gary Neville, Ryan Giggs, Paul Scholes, Phil Neville and David Beckham along with Singaporean billionaire Peter Lim, are now in their fourth season in League Two, despite having the biggest budget in the division. Salford are now on their fourth permanent manager since promotion to the EFL in 2019 and, despite ambitions to quickly climb the leagues, have failed to reach the League Two playoffs in three full seasons, although they are in contention to do so over their final two games of this campaign.
Kevin Ratcliffe, the former Wales and Everton captain, now watches Wrexham in his role as a pundit for BBC Radio Wales. Having also managed in the lower leagues with Chester City and Shrewsbury, he says that the path ahead will be challenging.
"Over the last two years since Rob and Ryan have been at the football club, they've had the opportunity to bring in players better than they've had, but they've probably got too big of a squad now," Ratcliffe said. "It's always easy to bring players in, but it's harder to move players on, especially if they are on good wages.
"The investment they've put into the first team and to the manager can bring problems. The players at the club can be jealous of what's coming in if they're on maybe two or three times more than they are or even more.
"So far, it has gone well, but with every level you go up, the team will aim to be better, so the players have to enjoy it while they can. Enjoy being part of history, but the pressure will grow because there will be an expectancy to be promoted every year now.
"These are great times for Wrexham, though, and the whole region. I grew up in the area, so it's nice that there are good vibes because there hasn't been much to shout about over the years."
Confirmation this week that the local council in Wrexham will contribute "substantial" funding toward the building of a new 5,500-capacity stand at the Racecourse Ground will enable the club to attract even more supporters to home games and generate more revenue, so the future does look increasingly bright.
"The club are getting crowds of 10,000 — it used to be 4,000 — so with that kind of support, Wrexham can go up another couple of levels," said Ratcliffe.
Paul Mullin's second-half brace leads Wrexham to win and promotion
Paul Mullin scores two second-half goals, leading Wrexham to a 3-1 win over Boreham Wood to return back to the football league.
---
It took 20 minutes for the supporters to vacate the pitch and allow the players and coaching staff to collect their medals and lift the National League champions' trophy. During that time, the fans collected mementos of their own, taking videos and photographs; some even claimed pieces of turf. Some of the older fans stood and watched, taking in an occasion they may at times have felt would never happen.
One of them was Mickey Thomas, the former Manchester United, Chelsea, Everton and Wales midfielder, who ended his career at Wrexham in the 1990s. Thomas scored in the legendary FA Cup win against reigning champions Arsenal in 1992 which was, until this victory, the most memorable victory at the Racecourse Ground.
"This is amazing," Thomas told ESPN. "What a night. Wrexham will be like a runaway train now."
Midfielder Elliot Lee moved from EFL Championship team Luton Town to sign for Wrexham last summer, and he said that promotion justified his decision to drop down three divisions for the experience of this season.
"I moved away from family to be here, so when I saw them at the end, after getting through all the fans, tears were coming down from my eyes." Lee said. "I wanted a new challenge when I left Luton and this was what I needed. It's an incredible achievement and the atmosphere was unbelievable. We know how much this means to the people of Wrexham."
None of this would have happened without Reynolds and McElhenney. Their investment and passion for the team has ignited something in the city that could take the club all the way up the football pyramid to the Premier League. But first, there is time for celebration.
"I've been in football for 20 years, and you don't get too many days like this," said goalkeeper Ben Foster. "Promotion doesn't happen every season. I've told the players they have to go out and celebrate tonight — get drunk, enjoy it — because you never know if or when it will happen again."
You really do never know. Nobody at Wrexham would have imagined back in 2008 that they would spend so long away from the EFL, so they can take nothing for granted. But with Reynolds and McElhenney involved, it really feels like this is the start of something at Wrexham. There will be more celebrations to enjoy in the years ahead.
Situs Prediksi Togel Online Terpercaya bisa anda akses langsung di Togelcc Prediksi, TOTOCC adalah situs bandar togel dengan pasaran togel terbanyak. Anda bisa bermain langsung dan melihat hasil langsung dari togel hari ini hanya di TOTOCC.COM.